Look who's finally single
New gummy flavours, and sour options are here. 
If you're already a Jelly Bomb lover and you're looking for something new and exciting then you're going to want to try Sour Twisted Singles. Yes, we said sour. 
Brace yourselves for a sour take on some of our most popular flavours, as well as some new flavours to sink your teeth into (see new Strawberry Kiwi and Lemon Twisted Singles below).


What should I expect from a bag of Twisted Singles?
Each bag of Twisted Singles contains 16 x 10mg sour gummies coated in a sweet, sugary dust. Indica and Sativa Twisted Singles are fully infused with the same full spectrum cannabis oil you know and enjoy in our Jelly Bombs. 
We've been testing and perfecting the perfect combination of ingredients to give you the best mouth feel and chewy gummy texture. Sour Twisted Singles are lab tested and accurately dosed using the same infusion methods we use to infuse our Jelly Bombs. These new gummies are gluten and palm oil free as with all of our gummy products. 
We can't wait to hear what you think about these new gummies.
Indica vs Sativa vs CBD
Want to feel ultra relaxed and sleepy? Go for  Indica Twisted Singles.
Want to have some fun and get a little weird? Try Sativa Twisted Singles
Want to skip the buzz while easing anxiety and stress? CBD Twisted Singles are for you.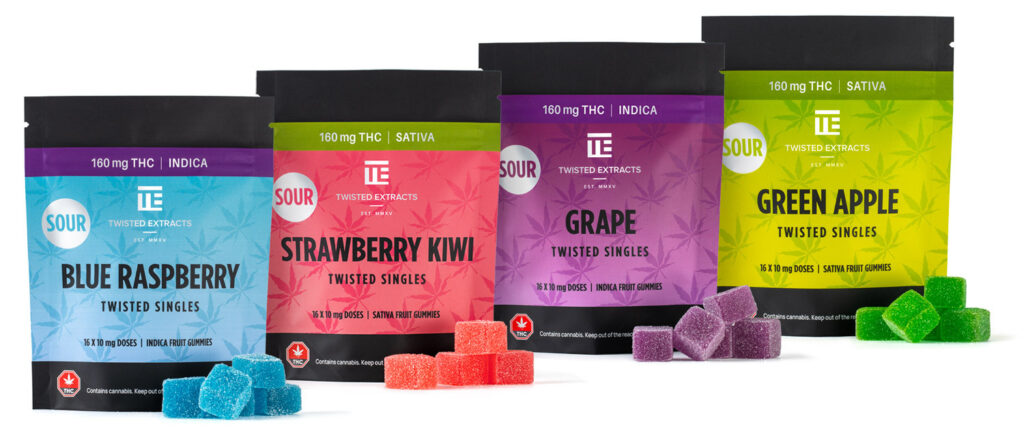 How do I get my hands on new Sour Twisted Singles?
Check out our Where to Buy page. 
Enter to win 50 Sour Twisted Singles ($800 value)

Subscribe to our newsletter to be entered to win 50 bags of Twisted Singles (8000 mg, $800 value).
Did you like this article? 
Sign up for our newsletter to make sure you're in the know about all of our new product releases, contests and more.