We're coming on strong
Looking for something seriously potent? Twisted Extracts' new High Dose Twisted Single gummies are designed for the heavy hitters. 
Try new, funky flavours you've never seen before from Twisted Extracts like Blueberry, Nectarine Dream, Raspberry Lemonade and more.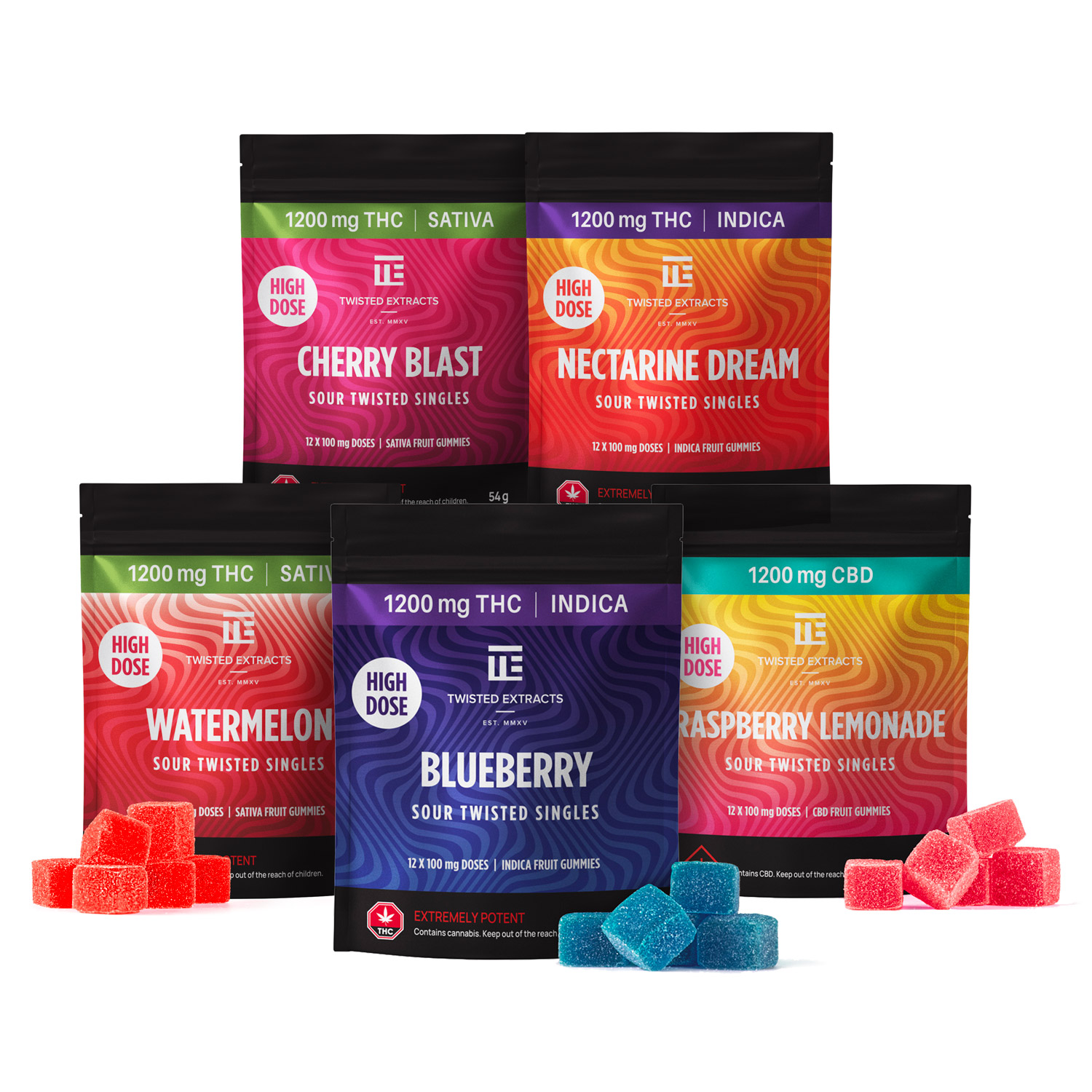 Bang for your buck
These gummies offer the best THC price per milligram of our selection of edibles so you get more and save more.
$56 retail means you're paying less than $0.05 per milligram (mg) of THC.
What should I expect from a bag of High Dose Twisted Singles? 
You'll find 12 x 100mg sour gummies coated in a sugary dust in each bag of High Dose Twisted Singles. These gummies are ultra potent and not intended for the new or inexperienced cannabis consumer. Make sure you start low and go slow. If you're new to edibles and are looking for something more mild, we recommend our original Sour Twisted Singles. 
Indica and Sativa Twisted Singles are fully infused with the same full spectrum cannabis oil you're used to in our Jelly Bombs and original Sour Twisted Singles. This means you'll still experience and receive the benefits of the entourage effect. 
You can expect the same mouth feel and perfect chewy gummy texture in these High Dose Twisted Singles as with our original Twisted Singles. These gummies are lab tested and accurately dosed using the same infusion methods we use to infuse all of our edibles. They're also gluten and palm oil free.
Indica, Sativa, or CBD?
Want to feel ultra relaxed and sleepy? Go for High Dose Indica Twisted Singles.
Want to have fun and get a little weird? Try High Dose Sativa Twisted Singles.
Want to skip the buzz while easing anxiety and stress? High Dose CBD Twisted Singles are for you.
Still not sure which product is right for you? Use our Product Finder Tool to help.
How do I get my hands on new High Dose Twisted Singles?
Check out our Where to Buy page. 
Did you like this article? 
Sign up for our newsletter to make sure you're in the know about all of our new product releases, contests and more.