Salty. Gourmet. Delicious. 
New cannabis infused Salted Cara-Melts have arrived! 
Our new line of Cara-Melts have a salty twist. They pack more of a punch than our original Cara-Melts at 30 mg each (300 mg per package total). These caramels are gourmet, absolutely delicious and individually wrapped for your convenience. 
Everything tastes better with a little salt
We use pink himalayan salt to give our new Cara-Melts their mouth watering salty taste. When pink himalayan salt is processed the natural minerals found in the salt, including iodine, are maintained. The processing of other salts results in the loss of these naturally occurring minerals. 

What should you expect from a bag of Salted Cara-Melts?
Indica and Sativa Salted Cara-Melts are fully infused with the same full spectrum cannabis oil you know and enjoy in our original Cara-Melt line.
Salted Cara-Melts are lab tested and accurately dosed using the same infusion methods we use to add cannabis extract to all of our edible products.
Each bag of Salted Cara-Melts contains 10x individually wrapped 30 mg salted caramels (300 mg per bag). If you're new to edibles you might consider opting for our 80 mg Original Cara-Melts that have a lower dose of 10 mg THC per piece. Always start low and go slow when consuming edibles for the first time.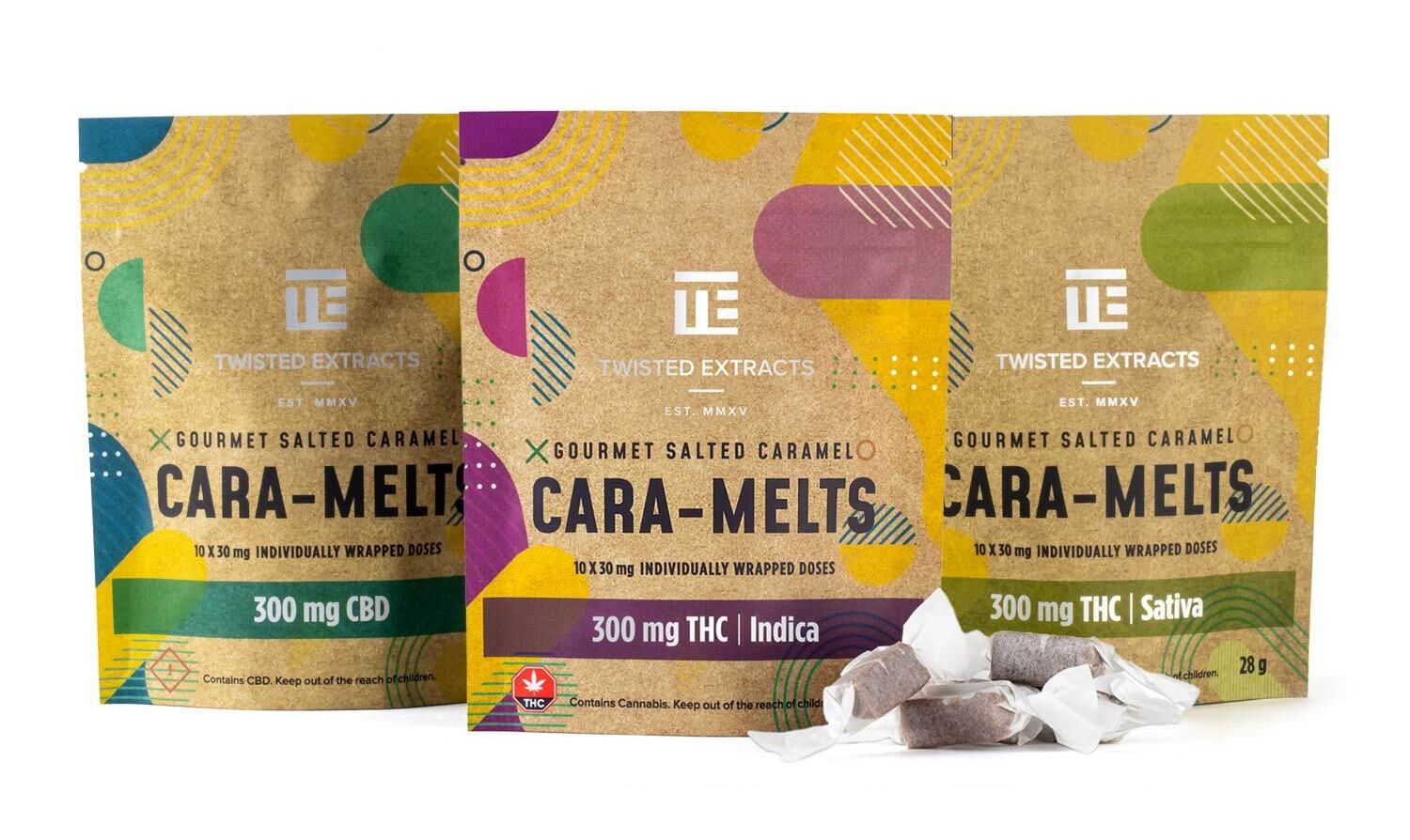 Indica, Sativa or CBD. Which is right for you? 
Try Indica Salted Cara-Melts if you're looking for something to help you feel sleepy, relaxed and carefree. 
Try Sativa Salted Cara-Melts if you're looking for something to help you feel euphoric, happy and a little goofy. 
Try CBD Salted Cara-Melts if you're looking for something to help you ease inflammation, anxiety and stress. CBD Salted Cara-Melts won't make you feel high. 
Still not sure which product is right for you? Use our Product Finder Tool to help.
How do I get my hands on Salted Cara-Melts?
Check out our Where to Buy page. 
Did you like this article? 
Sign up for our newsletter to make sure you're in the know about all of our new product releases, contests and more.