Makers of the Original Jelly Bombs.
Check out the full Twisted Extracts product line of edible cannabis gummies, oil drops and cara-melts. Everything we do is to enrich the quality of life of our customers with consistently dosed cannabis and CBD products for recreational and medicinal use.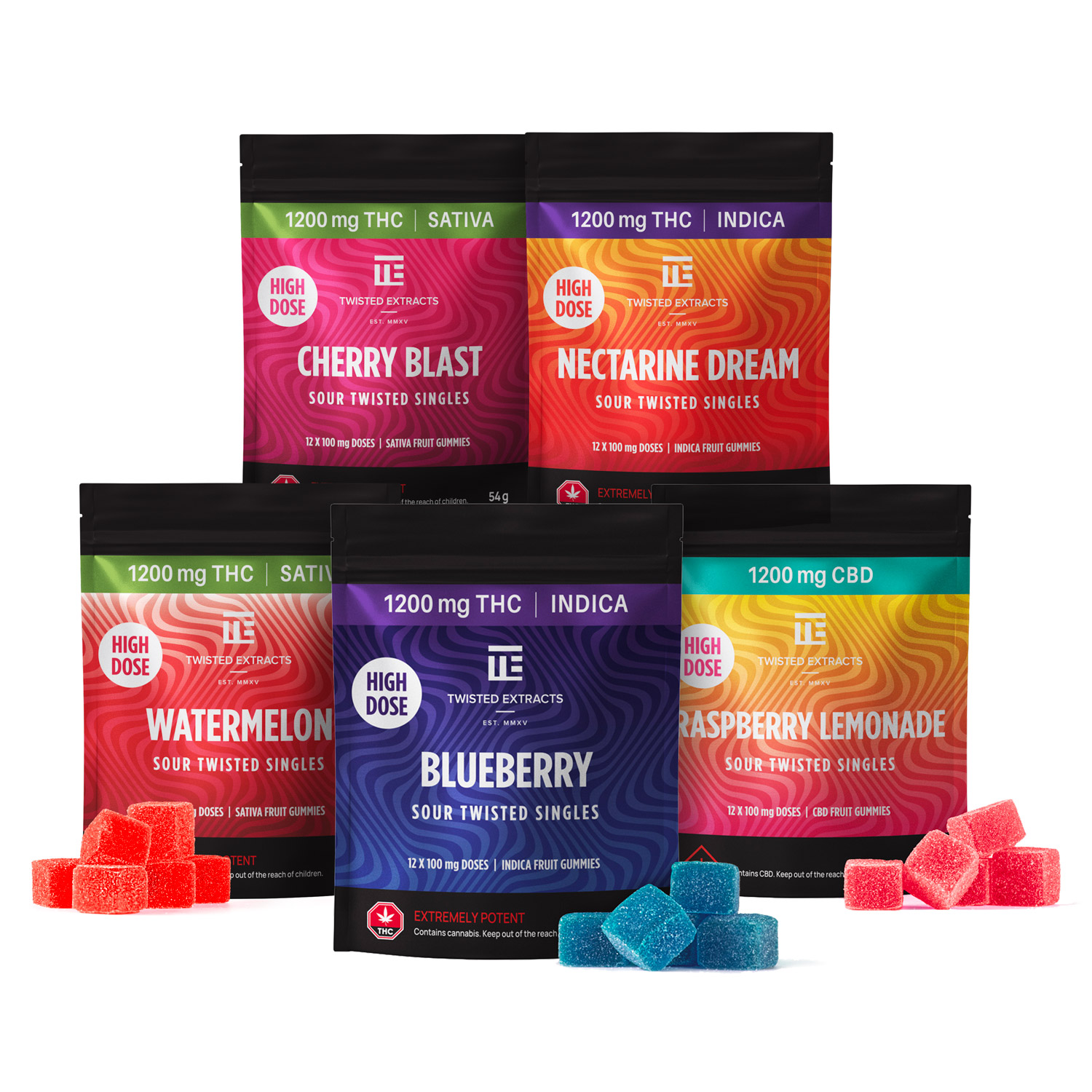 NEW High Dose Twisted Singles
You'll find 12 x 100mg sour gummies coated in a sugary dust in each bag of High Dose Twisted Singles. These gummies are ultra potent and not intended for the new or inexperienced cannabis consumer. Make sure you start low and go slow. If you're new to edibles and are looking for something more mild, we recommend our original Sour Twisted Singles. 
Indica and Sativa Twisted Singles are fully infused with the same full spectrum cannabis oil you're used to in our Jelly Bombs and original Sour Twisted Singles. This means you'll still experience and receive the benefits of the entourage effect.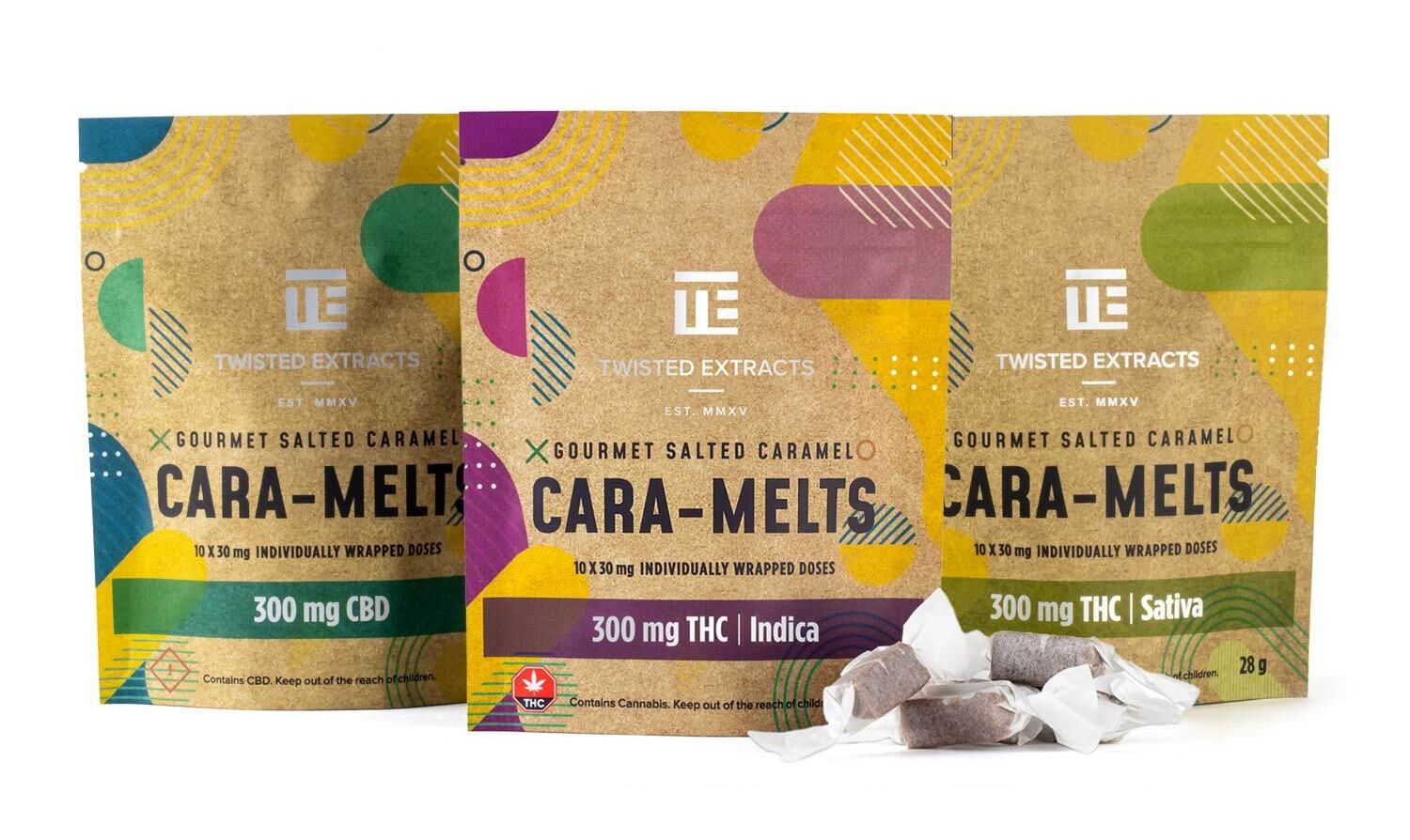 NEW Salted Cara-Melts
Salty. Gourmet. Delicious. 
New cannabis infused Salted Cara-Melts have arrived! 
Our new line of Cara-Melts have a salty twist. They pack more of a punch than our original Cara-Melts at 30 mg each (300 mg per package total). These caramels are gourmet, absolutely delicious and individually wrapped for your convenience.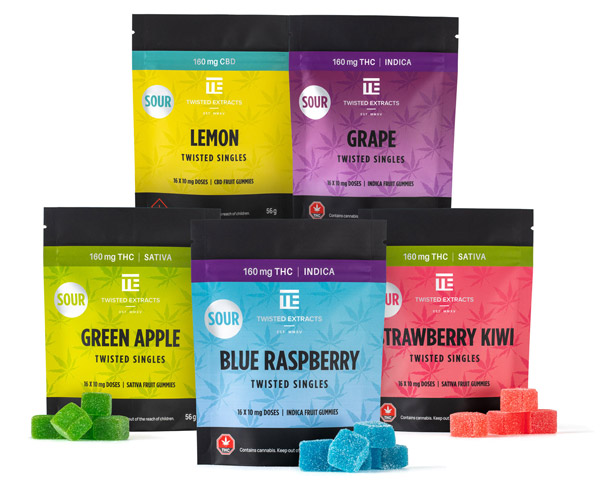 NEW Twisted Singles
Each bag of Twisted Singles contains 16 x 10mg sour gummies coated in a sweet, sugary dust. Indica and Sativa Twisted Singles are fully infused with the same full spectrum cannabis oil you know and enjoy in our Jelly Bombs. 
We've been testing and perfecting the perfect combination of ingredients to give you the best mouth feel and chewy gummy texture. Sour Twisted Singles are fully infused using the same full spectrum oil we use to infuse our Jelly Bombs.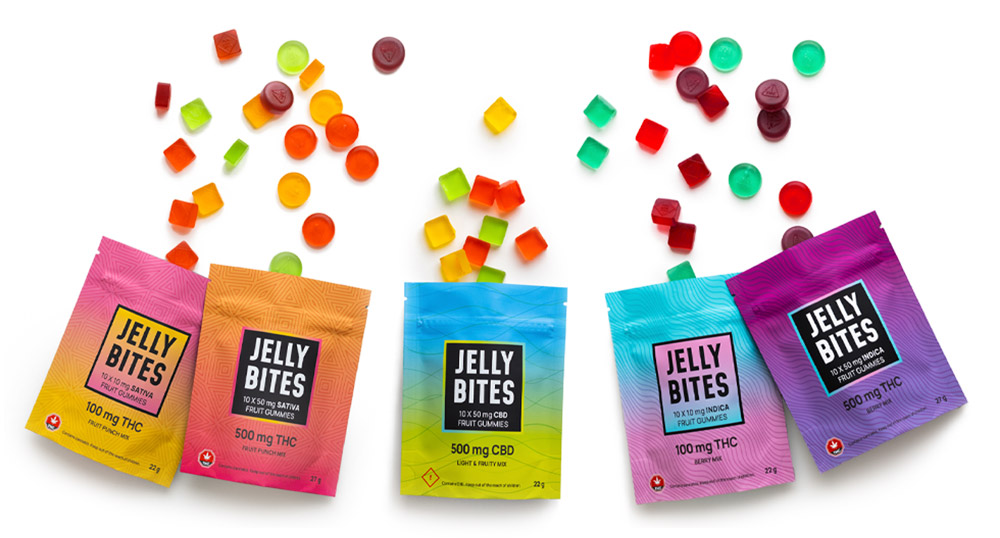 Jelly Bites
New bite sized cannabis and CBD gummies bursting with fruity flavours. Available in regular strength (100 mg THC) and extra strength (500 mg THC) options.
Lab tested | Gluten Free | Palm Oil Free | Non-sticky
Jelly Bombs
Sweet, fruity and easy to dose. The Twisted Extracts Jelly Bomb gummies have a reputation for being accurately and consistently dosed. These fully-infused edibles come in indica, sativa and CBD options and are easily sectioned into 8 x 10 mg doses.
Oil Drops
Simple and versatile. Twisted Extract's Oil Drops are made with cannabis extract and avocado oil. Whatever your dose, these Orange flavoured drops make it easy to incorporate cannabis and CBD into your daily routine. Add them to your tea, salad dressings or smoothies and more.
New Extra Strength Oil Drops
Extra Strength Oil Drops offer all of the benefits of CBD and THC at a higher concentration, so you can take less and feel more. Infused with the same proprietary cannabis extracts as our other products, our Oil Drops can be enjoyed on their own or added to your favourite food or beverage for discreet consumption.
CARA-MELTS
Creamy, buttery, and delicious – our Cara-Melts are seriously hard to resist. They're infused with the same cannabis oil we use in our Jelly Bombs so you can expect the same effects.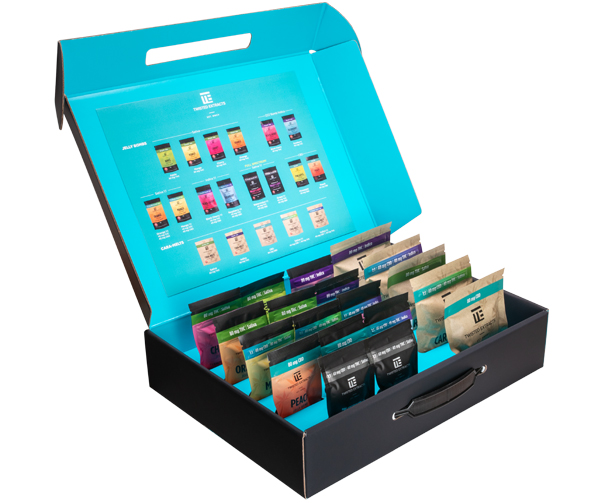 TWISTED SAMPLER BOX
Not sure which product is right for you? Can't decide? Gotta have 'em all? Whatever the reason, our Twisted Extracts Sampler showcases our entire product line, including our new Halley's Comet Jelly Bombs and Indica 1:1 Zzz Bombs, plus some other stuff we think you'll like. Our Sampler box is a great way to experience all of our edibles and learn what works best for you.
Take and Bake Oil
Cannabis oil in a precise dispenser, perfect for your cooking and baking needs. Made with the same cannabis oil used to infuse our Jelly Bombs, Cara-Melts and Oil Drops so you can make edibles at home with the effects you're used to.
Where to Buy Twisted Extracts
Not sure where to buy Twisted Extracts products? Check out our list of 'Where to Buy' vendors. Each vendor on this list carries our full product line.